GOVERNOR
Chris Christie
PO Box 001
Trenton NJ
609-292-6000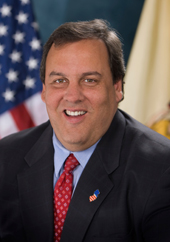 Chris Christie was elected on November 3rd, 2009 and sworn in as New Jersey's 55th Governor on January 19, 2010.
Since taking office, Governor Christie has taken action on an aggressive reform agenda to restore fiscal integrity and accountability to state and local government, combat New Jersey's highest in the nation property taxes, institute historic reform of the state's pension and health benefits system, and bring about necessary changes to public education in order to identify and turn around failing schools and give every child access to a quality education.
Governor Christie fought for and achieved passage of a 2 percent cap on property taxes, landmark public employee pension and health benefit reforms that will save taxpayers over $130 billion over the next 30 years, two balanced budgets that did not raise taxes, and $2.35 billion in job creating tax cuts. After years of decline, New Jersey has created tens of thousands of private sector jobs under Governor Christie.
In addition, Governor Christie has made education reform a top priority of his administration, putting forward and working for the passage of proposals to turn around failing schools, improve accountability, create a fair and meaningful evaluation systems for teachers and principals, and increase school choice in the state's worst performing districts. Governor Christie provided millions of dollars in additional state aid for New Jersey schools, increasing state education funding to higher levels than the day he took office.
ASSEMBLYMAN
Patrick J. Diegnan, Jr.
18TH LEGISLATIVE DISTRICT
128 Smith Street
South Plainfield, NJ 07080
908-668-5833 (h) 908-753-7200 (w)
908-753-4599 (fax)
AsmDiegnan@njleg.org
Assemblyman Patrick Diegnan is a life long resident of South Plainfield. He is a graduate of South Plainfield High School, where he was inducted into the Hall of Fame in 2002. He holds a Bachelor of Arts Degree and Juris Doctorate from Seton Hall University. He is a past President of the Sacred Heart Parish Council.
Assemblyman Diegnan and his wife of 34 years, Anita, have two daughters, Heather and Tara. Heather is married to Frank Paragano. They have one daughter, Vanessa.
Mr. Diegnan took his first oath of office as a member of the New Jersey General Assembly in 2002. Patrick Diegnan serves as Deputy Speaker and Parlimentarian for the New Jersey General Assembly. He also serves as Chairman of the Education Committee, is a member of the Consumer Affairs Committee Committee and the Regulated Professions and Independent Authorities Committee.